Product
YYC Content of Racks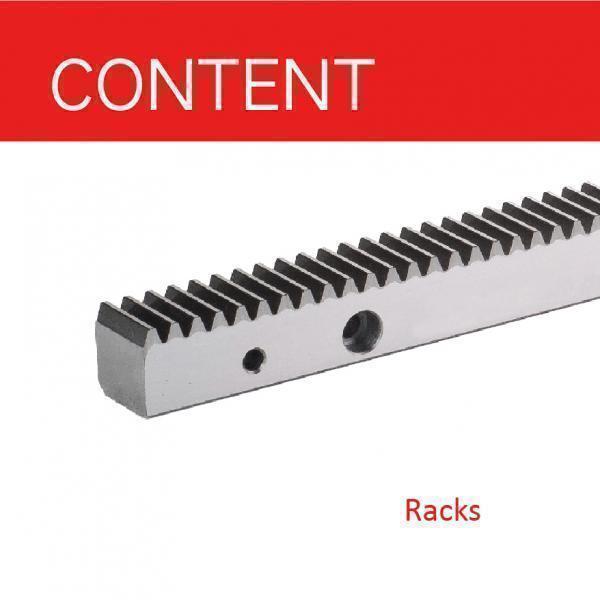 Contents of Racks
| | | | | | |
| --- | --- | --- | --- | --- | --- |
| Code | Grade | Material | Type | Teeth Treatment | Hardness |
| CHTGH | DIN 5 | S50C | Helical Right Hand 19°31'42" | Teeth Ground | Hardened HRC 50°-55° |
| CHTGH | DIN 6 | S50C | Helical Right Hand 19°31'42" | Teeth Ground | Hardened HRC 50°-55° |
| MHTG | DIN 8 | SCM440 | Helical Right Hand 19°31'42" | Teeth Ground | * |
| CHTM | DIN 8 | S50C | Helical Right Hand 19°31'42" | Milled | * |
| CHTMQ | DIN 8 | S50C | Helical Right Hand 19°31'42" | Milled | Quenched & Tempered HRC18°-22° |
| CHTMH | DIN10 | S50C | Helical Right Hand 19°31'42" | Milled | Hardened HRC 50°-55° |
| CSTGH | DIN 5 | S50C | Straight | Teeth Ground | Hardened HRC 50°-55° |
| CSTGH | DIN 6 | S50C | Straight | Teeth Ground | Hardened HRC 50°-55° |
| CSTM | DIN 8 | S50C | Straight | Milled | * |
| CSTMQ | DIN 8 | S50C | Straight | Milled | Quenched&Tempered HRC 18°-20° |
| CSTMH | DIN 10 | S50C | Straight | Milled | Hardened HRC 50°-55° |
| Code | Grade | Material | Type | Teeth Treatment | Hardness |
| MHTGQ | JIS 1 | SCM440 | Helical Right Hand 20°30' | Teeth Ground | Quenched & Tempered HRC18°-20° |
| CHTM | JIS 4 | S50C | Helical Right Hand 15° | Milled | * |
| CSTGH | JIS 2 | S50C | Straight | Teeth Ground | Hardened HRC 50°-55° |
| MSTMQ | JIS 4 | SCM440 | Straight | Milled | Quenched & Tempered HRC18°-22° |
| CSTM | JIS 4 | S50C | Straight | Milled | * |
| CSTMH | JIS 5 | S50C | Straight | Milled | Hardened HRC 50°-55° |
| Code | Grade | Material | Type | Teeth Treatment | Hardness |
| MSTGQ-CP | JIS 1 | SCM440 | Straight | Teeth Ground | Quenched & Tempered HRC18°-22° |
| MSTGH-CP | JIS 1 | SCM440 | Straight | Teeth Ground | Hardened HRC 55°-58° |
| CSTM-CP | JIS 4 | S50C | Straight | Milled | * |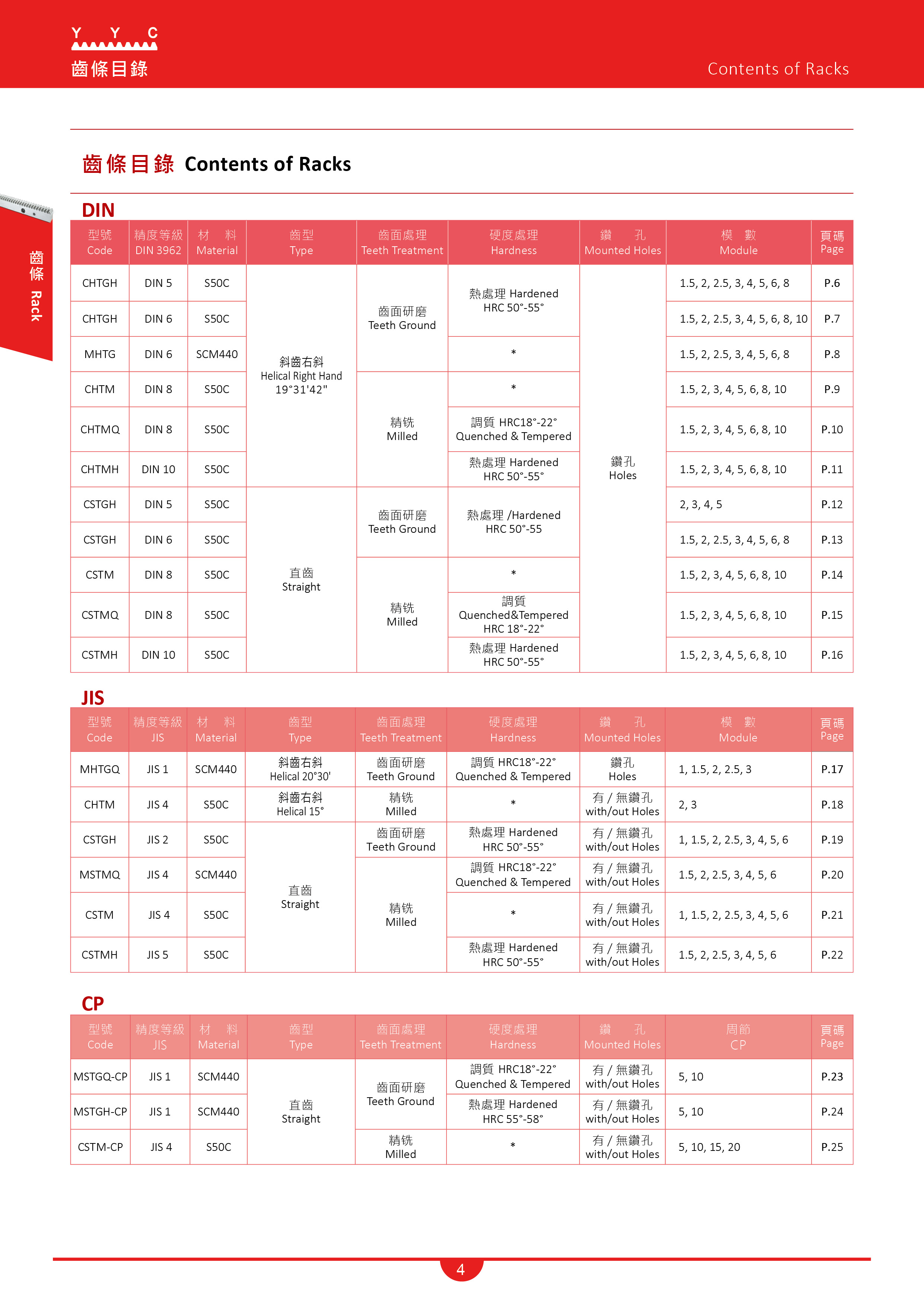 Features:
Yuan Yi Chang Machinery has nearly 40-years-experience, with ISO 9001 certificate and work projects with Industrial Technology Research Institute. Corresponding to smart manufacturing trend globally, YYC offers different series of transmission parts and equipment including Rack, Guideway Rack, Pinion, Roller, Planetary Reducers, Backlash Free Reducers.
Our major clients include all kinds of industries and fields such as CNC machines, machine centers, wood-cutting machines, printing machines, cutting machines, gantry milling machines, grinding machines, drilling machines, bending machines, robotic arms, automatic storage equipment, automatic upload & unload track, ATV, aircraft carrier, semiconductor plant, cranes, and so on.
YYC has excellent quality capability. In 2015, we earned Best Enterprise of National Brand Yu-Shan Award. In 2016, our Ultra High Precision Rack and Pinion won Best Products of National Brand Yu-Shan Award and Golden Torch Prize.
Yuan Yi Chang has marketed by brand name "YYC" which means "You drive, You Control!" Every driven part with outstanding quality, so the performance is under customer's control. Products are target on middle to high end markets. Currently, we are exporting nearly 50 countries. To have more customers' satisfactions is our continuous goal.
See more complete detail